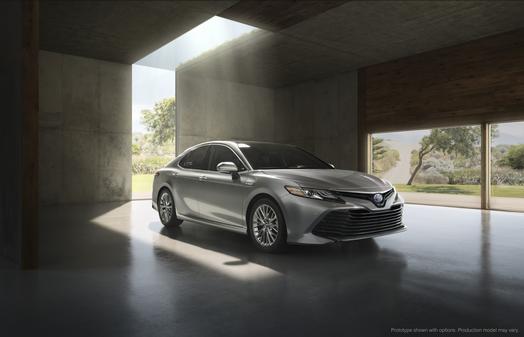 Looking to seek some fresh energy into America's best-selling car, the Toyota Camry will be ruffling feathers and seeing a redesign for its eighth generation. The sedan will see a total evolution. It will go from a dependable and safe vehicle to one that will feature a newfound sportiness in both performance and style.
The 2018 Camry will utilize TNGA (Toyota New Global Architecture), representing a completely new strategy of the way the company designs, engineers, and packages its vehicles. TNGA retains all of Toyota's traditional values while adding a fun driving experience that plays on all the senses. The physical manifestation is the usage of a new engine, transmission and GA-K platform.
When designing the all-new Camry, there were three primary design goals. First, a distinctive, low center of gravity courtesy of a firm wide stance. Second, a practical, yet emotional styled cabin. Finally a sporty and upscale image overall. All of these redesign goals have resulted in a new type of car that's not only exciting to look at and drive, but also brings around a new standard in the midsize-sedan category.
The new Camry will feature a two-piece grille that features the new "Keen Look" design philosophy. The curvaceous 1.6-inch-lower hood sits neatly above the grille's uppermost section which accommodates a commanding Toyota emblem. In addition, the 2018 Camry has a sleeker profile than the current model.
The interior of the Camry has been redesigned too and will be a fusion of functionality, futuristic styling, and personal space and craftsmanship. The driver will be situated in a sporty cockpit-type environment with gauges angled toward them. In addition, the front passenger will have an openness that results from the innovative dashboard design. The front console design will feature an ease of use of all controls/systems with a look that is pleasing to the eye.
The 2018 Toyota Camry will be available in four grades: LE, XLE, SE and XSE. To find out more about the 2018 Toyota Camry, contact Toyota of Greenville today.